What are the structures of hydraulic motors used on ships
Author:SAIVS
Time:2023-06-28
Click:
---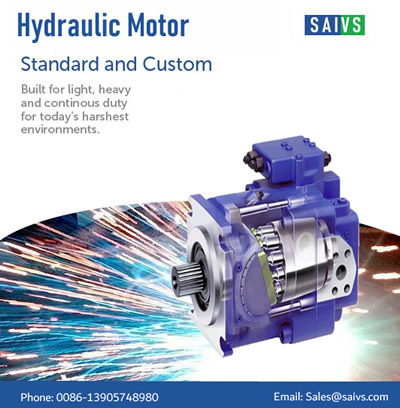 Hydraulic Motors
1. radial piston motors - Consisting of a cylindrical block with several pistons that reciprocate radially as hydraulic fluid is supplied,

these motors are highly efficient and can produce high torque at low speeds.
The cylinder block is set at an angle to the drive shaft and the reciprocating motion of the pistons is converted to rotary motion via a cam or swash plate. Radial piston motors are often used in applications requiring high power and low speed,
such as winches and anchor windlasses.
2. Gear motors - Constructed with an interlocking gear system that rotates as hydraulic fluid is supplied, gear motors are simple in
construction and highly reliable. These motors are versatile and can be used in a wide range of applications,
from steering gear systems to power winches and capstans. They have a relatively low torque output, but can run at high speeds.
3. Vane motors - These motors consist of a rotor that is offset within a cam ring, and vanes that slide in and out as hydraulic fluid is supplied.
They are lightweight and compact, making them suitable for use in tight spaces, such as on smaller vessels.
Vane motors can produce moderate torque output at high speeds and are often found in applications such as deck machinery or
hydraulically-driven systems for cargo loading/unloading.
4. axial piston motors - Consisting of a piston that moves axially as hydraulic fluid is supplied,
these motors can produce very high power densities and are often used in high-performance applications,
such as steering gear systems and thrusters. They can be constructed with either a swash plate or bent-axis design,
which determines the direction of the piston travel. Axial piston motors can also be used in low-speed, high-torque applications,
but are generally not as efficient as radial piston motors in this role.
In summary, all Hydraulic Motors on ships work by converting hydraulic energy into rotational mechanical energy.
The specific type of motor chosen for a particular application will depend on factors such as required speed, torque, and power,
as well as space limitations and reliability considerations.