Understanding the Importance of Hydraulic Torque in Bolted Joint Design
Author:SAIVS
Time:2023-08-09
Click:
---
Bolted connections play an essential role in various industries,
including transportation, construction, manufacturing, and oil and gas.
They provide a secure and reliable connection between two or more components,
ensuring the proper functioning of machinery and structures.
However, bolted joints can fail due to the lack of proper tightening,
leading to mechanical failure, production delays, and safety hazards.
To mitigate these risks, hydraulic torque has become a critical component in bolt connection design.
The use of Hydraulic Torque Wrenches and hydraulic bolt tightening machines has made
it easier to achieve precise and uniform bolt tightening during the assembly process.
In this article, we will discuss the importance of hydraulic torque in bolt connection design.
What is Hydraulic Torque?
Hydraulic torque is the twisting force generated
by hydraulic pressure applied to a torque wrench or bolt tightening machine.
It measures the amount of rotational force needed to tighten a bolt to a specified torque value.
Torque is usually expressed in foot-pounds (ft-lbs) or Newton-meters (Nm)
and is determined by the size and strength of the bolt,
as well as the material properties of the connected components.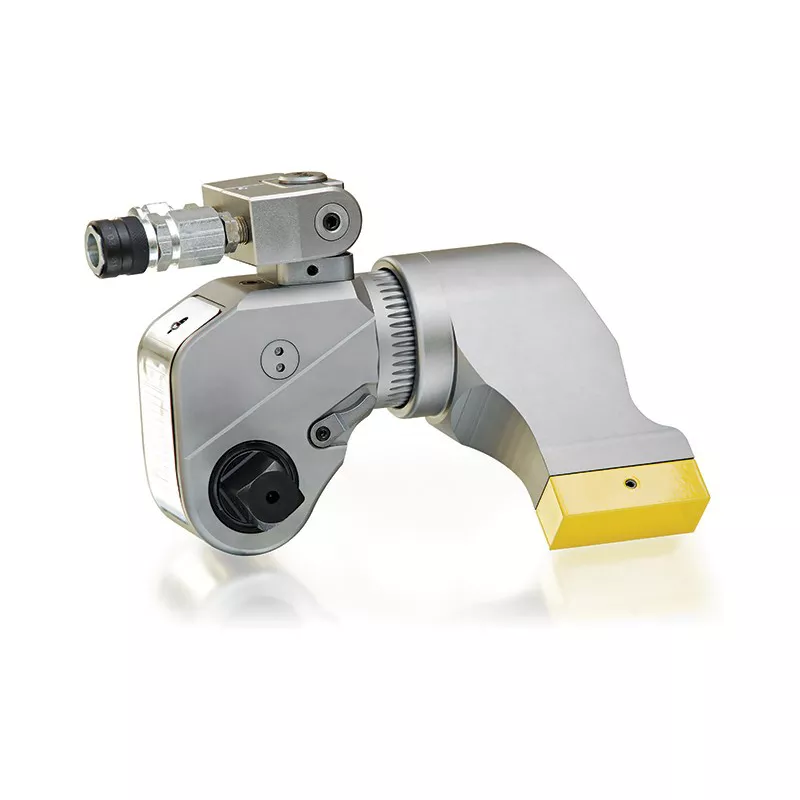 Common tools used in bolt connection design
hydraulic torque wrenches are commonly used in industries that require high torque values,
such as oil and gas, mining, and construction.
They feature a hydraulic pump and motor that generate pressure to rotate a square drive output,
which connects to a socket that fits over the bolt head or nut.
The hydraulic torque wrench is calibrated to deliver a specific amount of torque to the bolt quickly and accurately.
One of the significant benefits of hydraulic torque wrenches is
that they can produce high torque values with relatively low operator effort.
They are also flexible, with a range of socket sizes
and interchangeable headsthat can accommodate various bolt shapes and sizes.
Additionally, they are safer to use than manual torque wrenches,
as they eliminate the risk of awkward hand and wrist positions or slipping, which can lead to injuries.
2.Hydraulic Bolt Tightening Machines
Hydraulic bolt tightening machines are another common tool used in bolt connection design,
ideal for applications that require precision and uniformity.
These machines use hydraulic pressure to apply a controlled amount of torque to a bolt or nut.
They work by applying hydraulic pressure to a piston or plunger,
which pushes against a reaction nut and rotates the bolt or nut to the desired torque value.
Hydraulic bolt tightening machines offer several advantages over manual methods,
including faster and more precise tightening, reduced operator fatigue,
and the ability to apply accurate torque values even in cramped or inaccessible areas.
They can also handle a wide range of bolt sizes and torque values with minimal setup time,
making them suitable for large-scale assembly projects.
The importance of using hydraulic torque wrenches and hydraulic bolt tightening machines in bolt connection design
Accuracy: Hydraulic torque wrenches and bolt tightening machines can deliver very precise levels of torque,
ensuring that bolts are tightened to the exact specifications required for a particular application.
This is important because over-tightening or under-tightening bolts
can compromise the strength and integrity of the joint.
Speed and Efficiency: Hydraulic torque wrenches and bolt tightening machines
can tighten bolts very quickly and efficiently, allowing for fast installation
and reduced downtime during maintenance or repair work.
This can be particularly important in applications where time
is critical and delays can have significant financial implications.
Safety: Hydraulic torque wrenches and hydraulic bolt tightening machines are designed to be operated safely,
with features such as torque limiters to prevent over-tightening,
and other safety mechanisms to protect operators from injury.