9 causes of hydraulic pump failure and routine service
Author:SAIVS
Time:2022-08-12
Click:
---
Causes of hydraulic pump failure
The simplest way to identify the cause of pump failure is to thoroughly inspect and dissect the aftermath of the problem. In most cases, the cause of failure will be evident by the nature of the catalyst(s). Here are eight of the most common problems, some of their defining features, and how they ultimately come to fruition.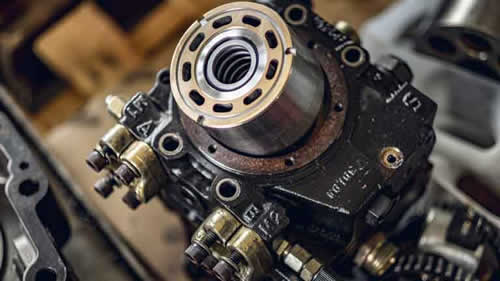 HOW Hydraulic pumps WORK
Hydraulic pumps must produce enough flow to overwhelm the pressure coming from the load.
As it works, the hydraulic pump will create a vacuum that aids in the movement of the liquid. The vacuum helps move the liquid from the pump reservoir to the inlet line. The continued movement of the pump will also result in the liquid going to the pump outlet and eventually, the Hydraulic System.
Hydraulic pumps are typically broken up into 3 categories, those being Piston, Gear, and Vane.
1. Fluid contamination is one of the biggest causes of hydraulic pump damage and involves debris mixing with the liquid. This debris causes friction, leading to extenuated wear on the pump itself. The result is inefficiency, culminating in malfunction.
2. Cavitation is a symptom of uncontrolled pump speeds, which fail to allow hydraulic fluid to completely fill the pump. It results in destabilized pressure, heat, and excess wear. Cavitation is often marked by the same type of whine or squeal as pump aeration.
3. Implosion invariably results in extreme failure for hydraulic pumps and is a major safety hazard. Implosion occurs when air bubbles within a hydraulic pump collapse, causing an overload of pressure to the pump that generates an intense shock.

4.Water Contamination Water mixing in with the hydraulic fluid is bad news for the hydraulic pump. When too much water is present in the hydraulic fluid, the internal components may start to corrode.In addition to its corrosion-causing qualities, water is also problematic because it could freeze inside the pump.
5. Aeration occurs when hydraulic fluid traps air bubbles. The pump subjects the bubbles to pressure, causing high heat and over-pressurization when the bubbles collapse. Aeration at extreme levels leads to implosion.
6. Over-pressurization occurs because of excessive load on the pump itself, resulting in red-line operation that's both unsafe and damaging. Hydraulic pumps operating under high duress for extended periods of time will likely experience component wear and premature failure, usually in spectacular fashion.
7. Excess heat can be a product of poor fluid viscosity or environmental factors. This issue is rarely a singular catalyst for pump breakdown, but it exacerbates other factors or masks other issues, such as fluid contamination.
8. Pump aeration pertains to air not in the hydraulic fluid, but air introduced through unsealed joints or shafts. This air quickly causes pressure instability affecting crucial parts of the pump. This can quickly lead to breakdowns — generally marked by a whine or other high-pitched sound.

9. Fluid viscosity issues occur when the hydraulic fluid within a pump breaks down over time. Viscosity that's too high leads to cavitation (another catalyst for damage). Subsequently, if a tech changes and replaces fluid with a viscosity that's too low, heat and friction become concerns.
Ultra-Low Pulse Vickers Eaton Double 20V Vane Pump

Causes of Hydraulic Pump Failures
"What could be the reason for a hydraulic pump failure and how can we prevent such failures in the future?"
A hydraulic pump failure can be caused by a number of factors. There are several different types of pumps available on the market, and each can have its own specific failure mode. Of course, certain failure modes are common to all types of pumps. Some of these failures can be caused by poor system design, using low-quality fluids and/or poor contamination control.
The best way to prevent future failures is to ensure that you are using quality hydraulic fluids. Keep in mind that the fluid is the single most important component of a hydraulic system, so always use high-quality hydraulic fluids with the correct viscosity for critical equipment.
Hydraulic fluids should also be kept clean, cool and dry. This is highly important to their performance. One of the ways you can do this is through quality filtration. Filters should be selected only if they achieve the target cleanliness levels that have been set for the fluid in the system. Also, use quality filters in locations that assure the required protection and upgrade the filters when necessary.
Another option for keeping hydraulic fluids clean is oil regeneration technology. Using a system that is able to separate and remove particles down to the nano scale can make a major difference in the service life of the hydraulic fluid while also extending the life of machines.
In addition, consider the possibility of using offline filters, because the cost of removing dirt is often much less in an offline mode than trying to do everything in a pressure-line filter location on the hydraulic system.
It is estimated that between 70 to 80 percent of hydraulic system failures are from contamination, with particle contamination making up the largest portion. Therefore, it is best practice to regularly perform oil analysis with particle counts.
Remember, the hydraulic pump is generally the most expensive component on a hydraulic system. It has the highest reliability risk, the highest contaminant sensitivity risk and the ability to cause chain-reaction failures. In other words, when the pump starts to fail, it starts to kick out debris into a debris field downstream of the pump. If there is not a good filter downstream, this debris moves on to other components like valves and actuators, and can lead to damage in those components as well.
Be wary of quick-fix solutions like switching to costly synthetics. Instead, provide solutions to the problems that exist and tackle potential future problems proactively. It is critical to set the proper cleanliness and dryness targets and to develop contamination control procedures that will allow you to meet those targets. By doing so, you should greatly reduce and possibly eliminate your pump failures.
Frequently Asked Questions About piston pump Repair and Maintenance
can answer any questions you have about hydraulic piston pumps as well as our services. Here are some commonly asked questions about piston pump repair and maintenance:
1. How Much Grease Should I Use?
First, reference the manufacturer's manual to see which areas require attention. Most commonly, you should grease the plunger center and the plunger slot corners for proper lubrication.
2. What Causes a Loud Pump?
Check to make sure the piston pump hasn't lost grease lubrication in the plunger slot. A contaminated environment and water hitting the pump can also cause it to be noisy. Even inlet plumbing that results in air leaks can create a loud noise.
3. When Should I Maintain My Piston Pump?
Hydraulic pump upkeep depends on your company's application, so check the unit's manual to see how long specific parts can last before needing replacement. Regular and preventative maintenance can help increase the lifespan of the pump and decrease massive overhauls down the road.
4. Why Did My Cam Bearing Fail?
Like all parts, a cam bearing will wear over time. It can damage from a lack of lubrication, excessive pressure or overuse. Through a preventative upkeep schedule, you can catch these wear and tear issues ahead of time to keep your bearing from failing.
5. Why Is the Unit Pulsating?
Many factors can cause a hydraulic piston pump to pulse. For example, abnormal inlet conditions, fixed outlet plumbing and an undersized bypass hose can contribute to the fault. Other reasons can include a non-working regulating valve or stuck/damaged pump valves.